About Us
The Roughshod Raiders is a fledgling club conceived when we were approached by the management of the Gainesville Target Range, Inc. They offered the use of their action bays, an open weekend day, and a welcoming attitude toward Cowboy Action Shooting. The match focus will be on lots of action and SHOOTING! Delta Glen, Hawkeye Gin, Rooster Ray, and Johnny Showchaps are in charge of the match. Santa Fe River Stan is our TG.
Our version of Cowboy Action Shooting is best described as tactical shooting with 2 single-action revolvers, a lever- or pump-action rifle, and a double barrel or hammered pump shotgun. The targets will vary in size and array but will be at close range. Emphasis will be on fast, safe shooting, and transitions from gun to gun and station to station. Our working motto is "Action is our middle name." We love to have spectators and are happy to give shooting tutorials. If you want to give this sport a try, contact one of us or visit our match and ask to try it out!
Get directions to the Gainesville Target Range.
The Single Action Shooting Society or SASS is the governing organization of our sport and all SASS rules will apply. Please go to www.sassnet.com for all the information about this sport.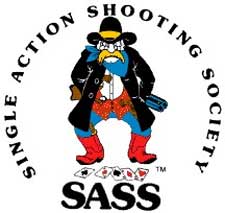 This is what we do:

by Hawkeye Gin with no comments yet.