The Raiders had a blast at this weekend's Spaghetti Western match hosted by the Lake County Pistoleros. Thank you to the shooters who voted for us to win best stage! We're glad you enjoyed our throwback props and smiley/frowny targets as much as we enjoyed coming up with them! Also, shout out to all the clubs for writing some crazy cool stages. It was a long day, but definitely worth it. What other match can you see a moving Clint Eastwood no-shoot target, all knockdowns, a lightsaber, the world's heaviest gold nugget prop, a tiny-bonus challenge, and a very intimidating cut-out of a local shooter staring you in the face?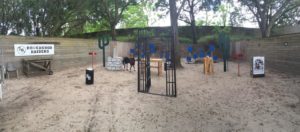 Posted in Announcements by Hawkeye Gin with no comments yet.
Raid Report 8-28-16
We had a hot but occasionally breezy day on the range.
Today's stages were a fun mix of sequences, transitions, and knockdowns.  We had 6 clean matches out of 22 shooters.  I think Raiders' shooters are prepared for any type of stage challenge that our game can provide.
As usual, our shooters worked tirelessly to put away all of the targets, bases, tables, etc.  A big thank you to Wabash Valley Slim and Big Country for handling the scores. I'm always humbled to be part of such a fine group of people.
Rocky Creek Shooter marked his 50th birthday this weekend.  Rocky has conducted Cowboy Church for the Raiders since Day 1 and has been a constant supporter of the club.  Happy Birthday!
Congratulations to Santa Fe River Stan for his overall win.
I hope to see you all at the Spaghetti Western match with the Lake Co. Pistoleros on Sept. 17th.
Until then,
Delta Glen

Posted in Raid Report by Hawkeye Gin with no comments yet.
Raid Report 7-24-16
What a Raiders match we had on Sunday!
So many good things to report:
Little Man was back from EOT as World Champion Buckaroo. We are all proud to shoot with him and his family.
Deadwood Woody is back in the saddle and on the range…good news.
Dynamite Deed shot with us for the first time. And our friend Zack McGee was back as well.
Perhaps the "coolest" thing to report is the clever efforts of Rooster Ray's and Chicken Scratch's giant shop fans running on generators. Wherever those guys are, I want to be on their posse!
Kudos to our "Prop Master" Tornado Timmy who built a dynamite box and a most excellent gold nugget that certainly looked like the real thing. Nice work Timmy!!
As far as the match, not only did we have ten knockdowns for Pistol and Rifle on Stage 1, we had eight shotgun knockdowns on Stage 6. Plus, we had two throwback stages: Stage 2 required carrying the 8+ lb. gold nugget to each shooting position and Stage 3 had us loading the shotgun from a bucket in two locations. We haven't done that kind of thing in a while and it was pretty fun. That gold nugget caused a few arms to stretch!
If you missed it, you missed a lot of fun and a wee bit of heat. Surely, August will be cooler…
See you on the trail,
Delta Glen

Posted in Raid Report by Hawkeye Gin with no comments yet.