Raid Report 1-25-15
It finally happened. We had a cool day on the range in Gainesville. We had some frost early in the morning, but it warmed up quickly. A beautiful day to be outside shooting with our friends.
We welcomed Greta Dee and Brucester Diamond, High Springs Drifter and Miss Patty, Sheriff Calvin, and Wiregrass Willie to their first Raiders match.
Thanks to Bisley and Marshal Leadready for picking up lunch. This freed us up to start teardown earlier. For the first time we had the steel and tables put away before lunch and awards. Very cool.
Congratulations to Reckless Roberts for his first clean match. 6th Overall means he was fast and clean!
I'm proud to be a part of our group of shooters.
There are plenty of good annual matches coming up and I hope to see you Raiders all over Florida and Georgia. If you shoot well with us you can shoot well anywhere!
See you on the trail,
Delta Glen

Posted in Raid Report by Hawkeye Gin with no comments yet.
Hey Raiders! We wanted to give everyone a head's up that March is a weird month again with the third Saturday and fourth Sunday on the same weekend. It just so happens that that weekend is the Lake County Pistoleros' Ides of March. To avoid the conflict we've moved the March Raiders match to the 29th (the fifth Sunday). So, mark your calendars and spread the word: the MARCH RAIDERS MATCH HAS MOVED to Sunday the 29th.

Posted in Announcements by Hawkeye Gin with no comments yet.
Calling all Raiders! Here's a message from our TG Santa Fe River Stan regarding the upcoming FL State Championship. We certainly hope to see you there!
The Roughshod Raiders are proud to present the Man on Man "Raid on the Siege" Challenge at the 2015 Florida State Championship on Sidematch Day, January 8th.
If you have ever wanted to participate in the "Man on Man" shoot-off in FL but haven't made the "Top 32" yet, then here's your chance to run the same course that will be used on Sunday and feel the "rush" of head to head competition. This is an all knockdown event to benefit the SASS Scholarship Fund.
Individual Challenges and Teams……$1 per run benefiting the SASS Scholarship Fund
9am to 1pm – Individuals – You can knock heads with whomever you want to challenge. Head to Head runs for individuals using the exact set up for the Sunday Shoot-off. Bring a buddy to the line and see who comes out on top. No awards just braggin rights.
9am to 1pm – Teams – Form a 3 person team and have at it. This will be a timed event and only one team will run at a time. These are not head to head runs. There will be awards for the top team.
1pm to ???? – Man on Man "Raid on the Siege" Challenge
Open to all shooters and there is a $5 entry to benefit the SASS Scholarship fund. This a bracketed head to head competition. Once everyone has signed up names will be drawn and the brackets created. Sign up will be open at 9am.
The winner of the final run will receive this custom badge donated by the Roughshod Raiders.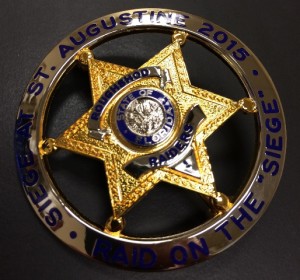 Posted in Announcements by Hawkeye Gin with no comments yet.