Hey guys! If you want to see more pictures from our matches go to Facebook and like the Roughshod Raiders page! The Gainesville Target Range also has a page and they recently shared more pictures from our Inaugural Match. Like their page for pictures and news about the club!
Here's one of their great shots of the opening ceremony and Stan, Dan, and Glen inducting Roughneck Rod into the Cracker…I mean, Crackahhh…Crew.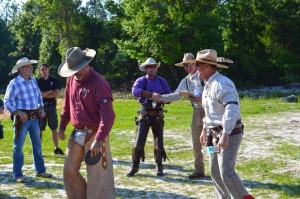 Posted in Announcements by Hawkeye Gin with no comments yet.
Raid Report 6-22-14
Our third match is in the books with 26 shooters braving the Florida summer heat.  Along with the popup tents, there were even a few breezes that made the day more comfortable.
I heard mostly good things about the all knockdown stage that was designed to give everyone a taste of a shootoff.  I think it was my favorite of the day.
Congratulations to Arcadia Outlaw for Top Gun.
Many thanks to the following folks:
Set up crew:  Major Mishap, Tin Star John, and Tricia who helped Rod, Gin, and me to get everything ready.
Wabash Valley Slim who saved the day with his timer and donated extra waters for the match.
My wife, Delta Red for delivering lunch and organizing the serving and cleanup.
As lunch and the awards were being completed, an approaching thunderstorm made itself known.  And then the most remarkable thing happened, nearly everyone that shot the match joined the effort to tear down the targets, tables, tents, etc.  I have never seen so much steel moved and so many tables stacked, hauled, and stored so fast in my whole cowboy life!  My heart swelled with pride just knowing the type of people who shoot with us.
Come join us for our next match July 27th and bring your friends…
Cowboy shooters are the best people on earth!
Delta Glen

Posted in Raid Report by Hawkeye Gin with 1 comment.
Hey guys! Just a reminder that the Raiders match is this coming Sunday at the Gainesville Target Range. It's a weird month, so even though it's the third Saturday it's also the fourth Sunday. Lunch will be available and we welcome any spectators who want to come watch and give Cowboy Action Shooting a try. We hope to see everyone at the range. Be ready to shoot 'em up for six stages!

Posted in Announcements by Hawkeye Gin with no comments yet.